Advantages of lung ultrasound in triage, diagnosis and monitoring COVID-19 patients: review
Bianca Emilia Ciurba

Mures County Clinical Hospital

Hédi Katalin Sárközi

Mures County Clinical Hospital and George Emil Palade University of Medicine, Pharmacy, Science and Technology of Targu Mures

István Adorján Szabó

Mures County Clinical Hospital and George Emil Palade University of Medicine and Pharmacy, Science and Technology of Targu Mures

Nimród László

Edith Simona Ianosi

Mures County Clinical Hospital and George Emil Palade University of Medicine, Pharmacy, Science and Technology of Targu Mures

Maria Ianosi

George Emil Palade University of Medicine, Pharmacy, Science and Technology of Targu Mures

Gabriela Jimborean

Mures County Clinical Hospital, George Emil Palade University of Medicine, Pharmacy, Science and Technology of Targu Mures
Keywords:
lung ultrasound, COVID-19, pleura, diagnosis
Abstract
Over the last decades, especially during the  COVID-19 pandemic period, lung ultrasound (LUS) gained interest due to multiple advantages: radiation-free, repeatable, cost-effective, portable devices with a bedside approach. These advantages can help clinicians in triage, in positive diagnostic, stratification of disease forms according to severity and prognosis, evaluation of mechanically ventilated patients from Intensive Care Units, as well as monitoring the progress of COVID-19 lesions, thus reducing the health care contamination. LUS should be performed by standard protocol examination. The characteristic lesions from COVID-19 pneumonia are the abolished lung sliding, presence of multiple and coalescent B-lines, disruption and thickening of pleural line with subpleural consolidations. LUS is a useful method for post-COVID-19 lesions evaluation, highlight the remaining fibrotic lesions in some patients with moderate or severe forms of pneumonia.
Keywords: lung ultrasound, COVID-19, pleura, diagnosis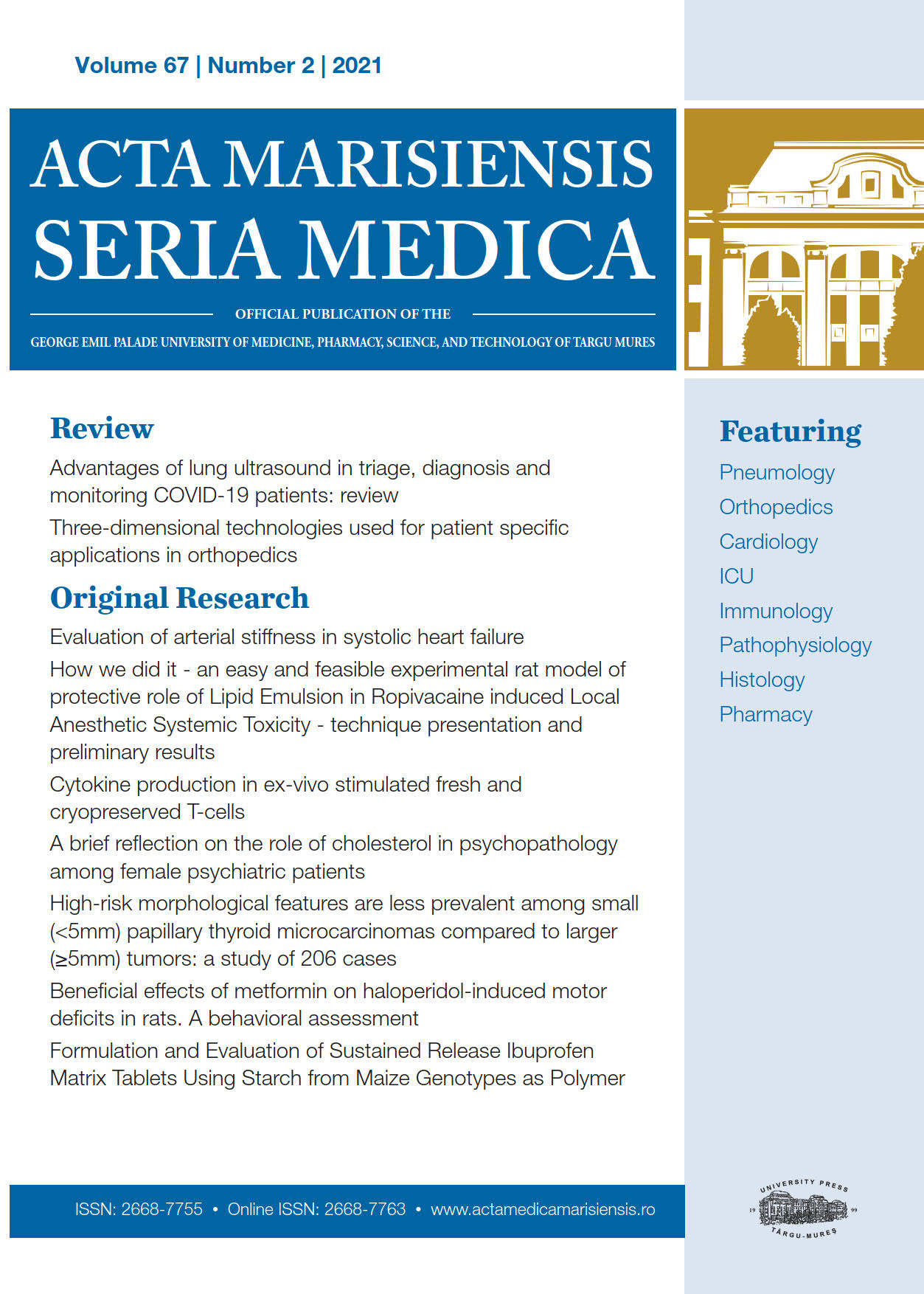 How to Cite
1.
Ciurba B, Sárközi H, Szabó I, László N, Ianosi E, Ianosi M, Jimborean G. Advantages of lung ultrasound in triage, diagnosis and monitoring COVID-19 patients: review. amm [Internet]. 6Jun.2021 [cited 17Sep.2021];67(2). Available from: https://ojs.actamedicamarisiensis.ro/index.php/amm/article/view/82
Copyright (c) 2021 Bianca Emilia Ciurba, Hédi Katalin Sárközi, István Adorján Szabó, Nimród László, Edith Simona Ianosi, Maria Ianosi, Gabriela Jimborean
This work is licensed under a Creative Commons Attribution 4.0 International License.