Adenosquamous and squamous cell carcinoma of the pancreas: two histopathological variants of ductal adenocarcinoma
Pancreatic cancer – histopathological diagnosis
Tiberiu Bogdan Szekely

Cornelia Toganel

Zoltan Kadar

Alexandra Daniela Sava

Tivadar Jr. Bara

Daniela Roman

Simona Gurzu

University of Medicine, Pharmacy, Science and Technology "G. E. Palade" of Targu Mures
Keywords:
squamous cell carcinoma, adenosquamous, pancreas, vimentin, maspin
Abstract
Introduction: Primary squamous cell carcinoma (SCC) and adenosquamous carcinoma of the pancreas are rare malignancies for which diagnostic and treatment strategy are challenging. In this paper we present a literature review of these tumors based on two case reports. Case presentation: In the first case, a 55-year-old male presented with an inoperable pancreatic head/body junction tumor. Endoscopic ultrasound-guided fine needle aspiration was practiced, and histopathological examination revealed a squamous cell carcinoma of the pancreas. After exclusion of any another tumor, the diagnosis of cT4N0M0-staged primary pancreatic SCC was made. The patient is under treatment with gemcitabine and oxaliplatin. The second case is represented by a 73-year-old patient in which imagistic examinations highlighted a cystic mass of the pancreatic body. Following coporeo-caudal splenic-pancreatectomy and histopathological-proved diagnosis of adenosquamous carcinoma, the patient started chemotherapy but died at 11 months after surgery. Both tumor components displayed positivity for markers which prove ductal (cytokeratin19, maspin) and squamous differentiation (p63, cytokeratin5/6) same as vimentin, as indicator of epithelial mesenchymal transition (EMT). Conclusions: SCC and adenosquamous carcinoma of the pancreas are aggressive malignancies which prognosis remains highly reserved. These tumors might be variants of ductal adenocarcinomas which are dedifferentiated through EMT phenomenon.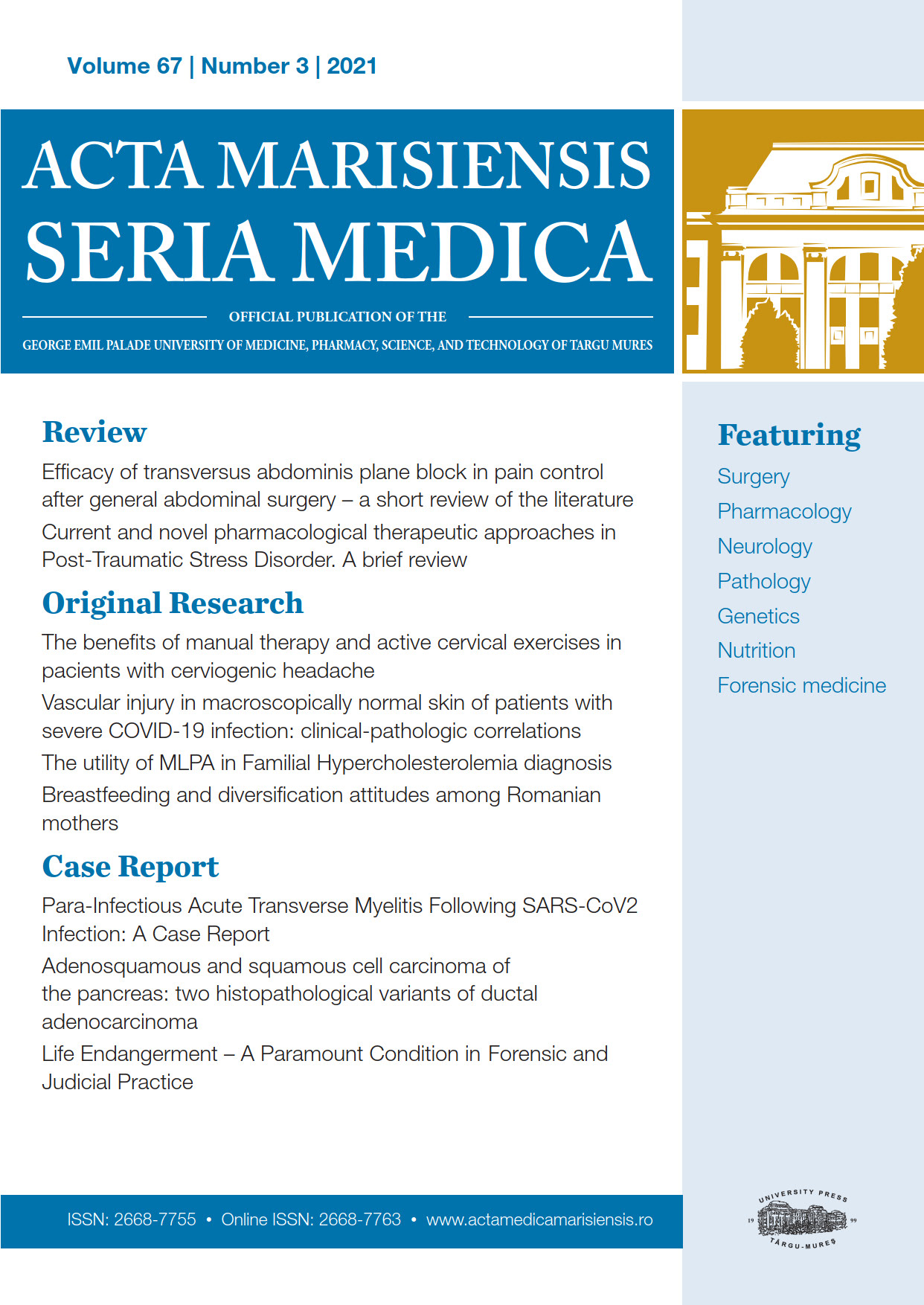 How to Cite
1.
Szekely T, Toganel C, Kadar Z, Sava A, Bara T, Roman D, Gurzu S. Adenosquamous and squamous cell carcinoma of the pancreas: two histopathological variants of ductal adenocarcinoma. amm [Internet]. 12Sep.2021 [cited 13Aug.2022];67(3). Available from: https://ojs.actamedicamarisiensis.ro/index.php/amm/article/view/99
Copyright (c) 2021 Tiberiu Bogdan Szekely, Cornelia Toganel, Zoltan Kadar, Alexandra Daniela Sava, Tivadar Jr. Bara, Daniela Roman, Simona Gurzu
This work is licensed under a Creative Commons Attribution 4.0 International License.