Online pharmacy: customer profiling
Marius Călin Cherecheș

Faculty of Pharmacy, University of Medicine, Pharmacy, Sciences and Technology "George Emil Palade", Târgu Mureș, Romania

Cristian Olimpiu Popa

Faculty of European Studies, Babeș-Bolyai University, 1 Emmanuel de Martonne Street, Cluj-Napoca, Romania
Keywords:
online pharmacy, digital marketing, pharmaceuticals, patients behavior, pharmacies
Abstract
Introduction: Nearly three out of four European citizens purchase goods online. The main advantages of using an online pharmacy are lower prices and convenience. Patients appreciate a higher degree of privacy as well, and access to a wider selection of health products. Study shows that the number of online users is on the rise in major countries like the USA, EU member states or India.
Methods: The study is based on data collected in April 2020 at the country level (Romania) from a sample of 789 adults over the age of 18, using CATI. A simple random sampling procedure was applied, with a confidence interval of 3.5% and a confidence level of 95%.
Discussions: About 17.7% of Romanians have purchased healthcare products through online pharmacies or drugstores, of those 60% are women, between 30 - 64 years old (84 %), have a monthly income of more than 2700 lei (90%), and a university degree (76%).
The ability to compare prices, shop quickly, and have prompt access to items and information, together with a wider range of products - were the most common reasons mentioned for choosing an online pharmacy.
Conclusions: Respondents' motivation to use online pharmacies appears to be more related to the benefits of the online media, rather than to some unmet needs in brick-and-mortar pharmacies. Satisfaction, convenience, trust in the pharmacist, desire to talk to the pharmacist and possession of a loyalty card are some of the reasons for patients utilizing online pharmacies to purchase medicines.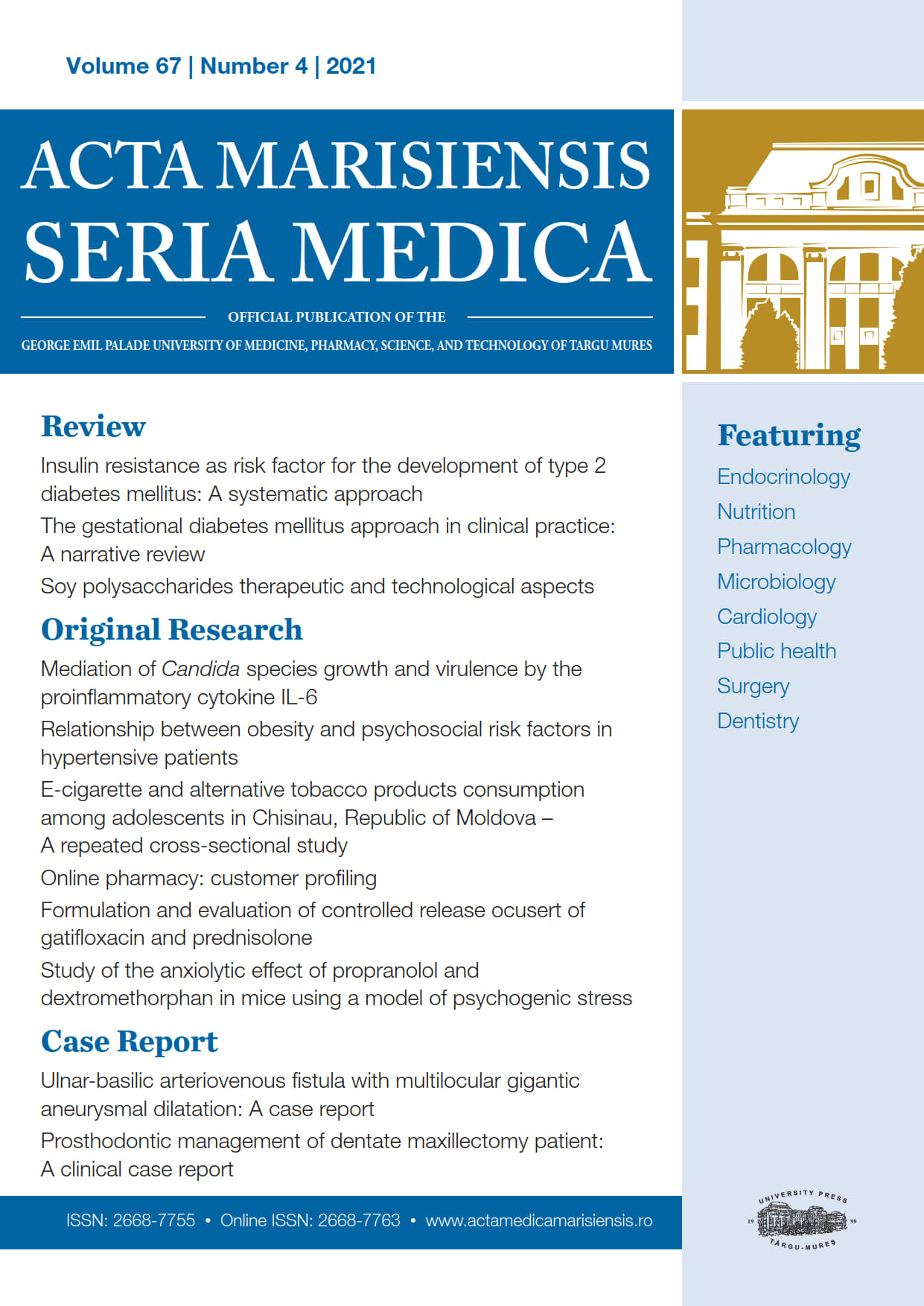 How to Cite
1.
Cherecheș MC, Popa CO. Online pharmacy: customer profiling. amm [Internet]. 4Oct.2021 [cited 28May2022];67(4). Available from: https://ojs.actamedicamarisiensis.ro/index.php/amm/article/view/90
Copyright (c) 2021 Marius Călin Cherecheș, Cristian Olimpiu Popa
This work is licensed under a Creative Commons Attribution 4.0 International License.