Genitourinary bacterial infection: a cause of infertility in men? A cases series and short review of literature
Răzvan Lucian Coșeriu

Department of Immunology, Mures County Clinical Hospital- Infectious Diseases Laboratory, Targu Mures, Romania

Camelia Vintilă

Department of Microbiology, Mures County Clinical Hospital- Infectious Diseases Laboratory, Targu Mures, Romania

Bianca Irina Kosovski

Department of Phyopathology, George Emil Palade University of Medicine, Pharmacy, Science and Technology of Târgu Mureș, Romania

Anca Delia Mare

Department of Microbiology, George Emil Palade University of Medicine, Pharmacy, Science and Technology of Târgu Mureș, Romania

Cristina Nicoleta Ciurea

Department of Microbiology, George Emil Palade University of Medicine, Pharmacy, Science and Technology of Târgu Mureș, Romania
Keywords:
Enterococcus faecalis, spermatozoa, azoospermia, sperm count, male infertility
Abstract
Introduction
The role of bacterial infections on the onset and the development of male infertility is still highly controversial, as the clinical cases have different outcomes and the practitioners have no guidelines that will help them select the cases that will better benefit from antibiotic treatment.
Case presentation
Four case reports are presented in order to emphasize the possible clinical implications of genitourinary bacterial infections on male infertility. The first patient had two bacteria isolated from the semen culture, Escherichia coli, and then Enterococcus faecalis. The antibiotic treatment did not affect the quality of the spermatozoa. The second patient had a semen culture positive with E. faecalis. The treatment was successful: the bacteria were eradicated and the patient was able to conceive a baby. E. faecalis was also identified in the third and the fourth case. Both patients were able to conceive, despite the different clinical management strategies of the cases.
Conclusion
      Bacterial prostatitis might play a role in male infertility, but the clinical cases are still highly unpredictable. Every case presents a different viewpoint and raises awareness of the complexity of the problem.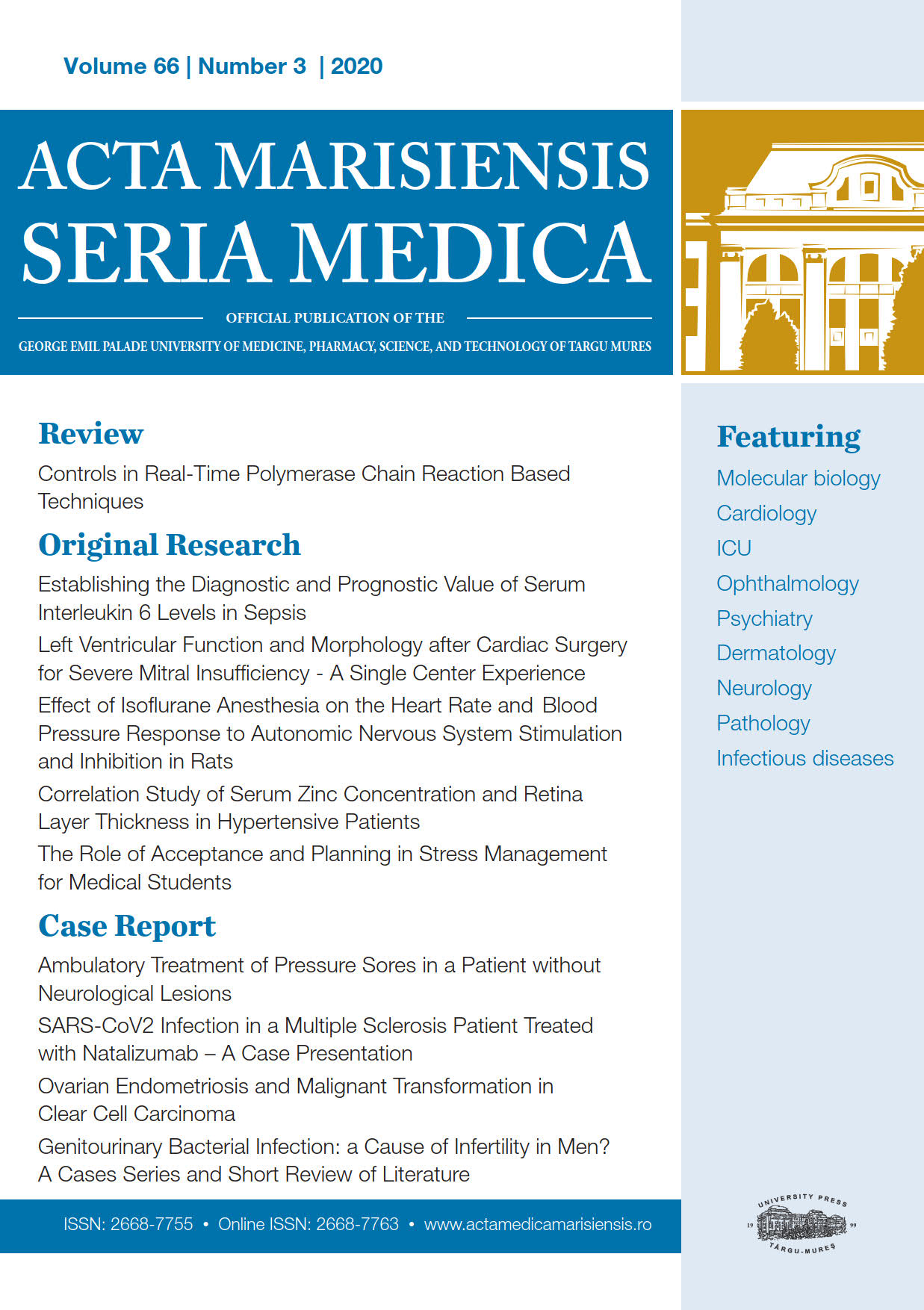 How to Cite
1.
Coșeriu R, Vintilă C, Kosovski B, Mare A, Ciurea C. Genitourinary bacterial infection: a cause of infertility in men? A cases series and short review of literature. amm [Internet]. 7Sep.2020 [cited 17Sep.2021];66(3):116-20. Available from: https://ojs.actamedicamarisiensis.ro/index.php/amm/article/view/37
Copyright (c) 2020 Răzvan Lucian Coșeriu, Camelia Vintilă, Bianca Irina Kosovski, Anca Delia Mare, Cristina Nicoleta Ciurea
This work is licensed under a Creative Commons Attribution-NonCommercial-NoDerivatives 4.0 International License.