Effects of vitamin D3 (cholecalciferol) supplementation on diabetic polyneuropathy in patients diagnosed with diabetes mellitus
László Marton

Compartment of Diabetology, Emergency Clinical County Hospital of Targu Mures, Romania

Monica IM Szabó
Keywords:
diabetes mellitus, cholecalciferol, diabetic polyneuropathy, neuropathic pain
Abstract
Introduction. Peripheral sensorimotor polyneuropathy is present in nearly half of the patients diagnosed with diabetes mellitus. Over the past 10 years, animal and human studies have suggested that vitamin D3 treatment may have a role in preventing or reducing neuropathic complaints and symptoms. Material and method. Our clinical, prospective, interventional, placebo-controlled study investigated the therapeutic effect of 2 000 UI oral cholecalciferol administered for three months on diabetic polyneuropathy. Patients treated with vitamin D and B, thioctic acid, and other analgesics were excluded. Using the single-blind technique, they were randomly assigned into vitamin D-treated and placebo-treated groups. In addition to recording anamnestic data, the study included - a Toronto Clinical Neuropathy Scoring System and Michigan Neuropathy Screening Instrument based - questionnaire to assess subjective symptoms and a physical examination including sensory tests (fine touch-, temperature awareness, pain-, vibration perception). Vitamin D levels were measured. After three months of therapy, the examination was repeated. Results. Most of the patients were found to have vitamin D deficiency (36% of the total population) or insufficiency (43%). In the cholecalciferol-treated group, but not in the control group, subjective symptoms decreased in intensity and/or frequency, and a significant improvement in the overall complaint scale was observed (p = 0.006), but no change regarding the sensory tests (p > 0.05). Conclusions. Our results show that oral administration of cholecalciferol for three months significantly reduced subjective symptoms and neuropathic pain as assessed by our questionnaire, however, there was no significant change in the results of the sensory tests. Vitamin D deficiency/insufficiency was common in diabetic patients (79% in our population), therefore screening is recommended.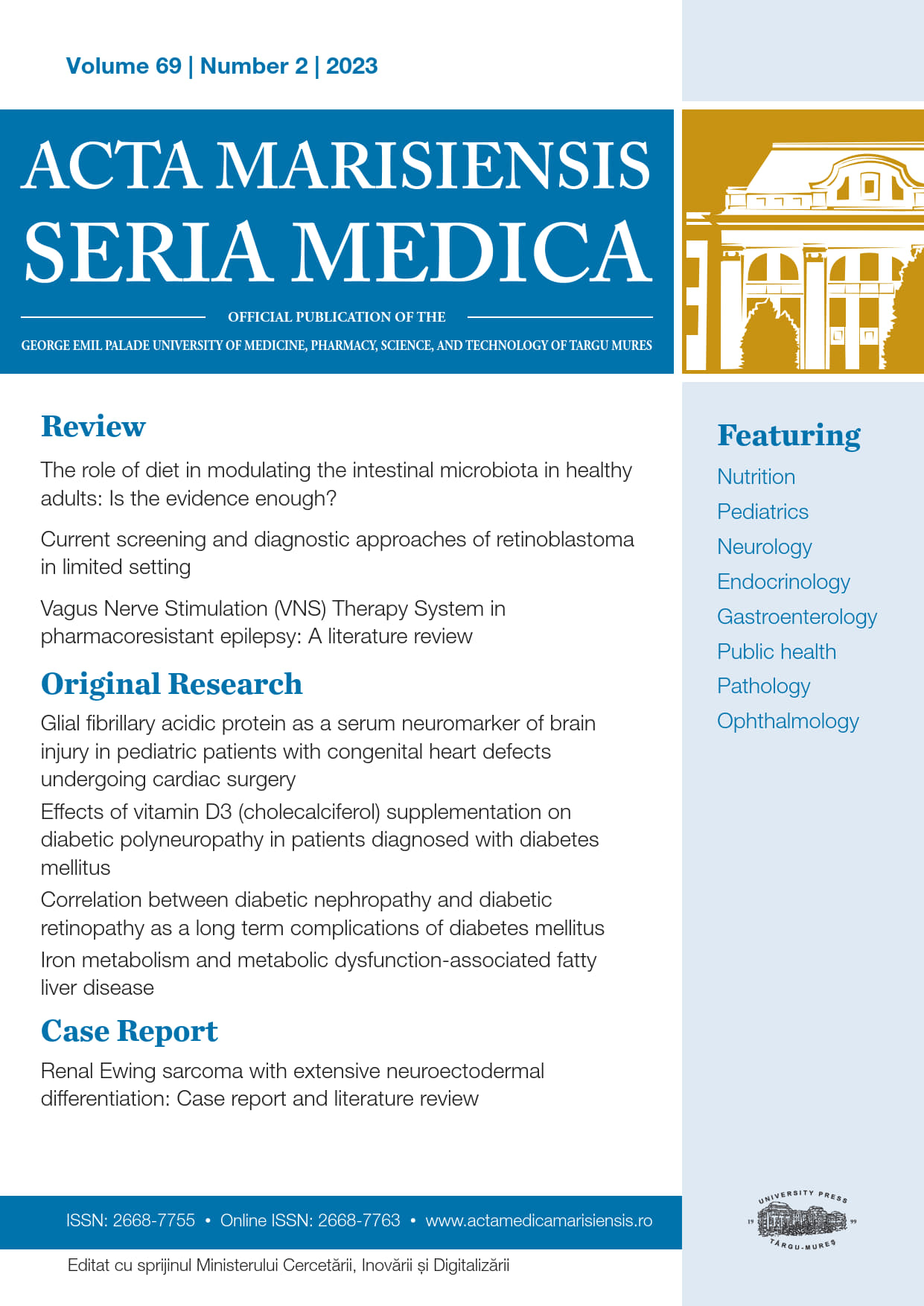 How to Cite
1.
Marton L, Szabó M. Effects of vitamin D3 (cholecalciferol) supplementation on diabetic polyneuropathy in patients diagnosed with diabetes mellitus. amm [Internet]. 23May2023 [cited 6Dec.2023];69(3). Available from: https://ojs.actamedicamarisiensis.ro/index.php/amm/article/view/275
Copyright (c) 2023 László Marton
This work is licensed under a Creative Commons Attribution 4.0 International License.