E-cigarette and alternative tobacco products consumption among adolescents in Chisinau, Republic of Moldova – A repeated cross-sectional study
Aculina Topada

Department of Hygiene, George Emil Palade University of Medicine, Pharmacy, Science, and Technology of Targu Mures, Targu Mures, Romania

Valentin Nadasan

Department of Hygiene, George Emil Palade University of Medicine, Pharmacy, Science, and Technology of Targu Mures, Targu Mures, Romania

Monica Tarcea

Department of Community Nutrition and Food safety, George Emil Palade University of Medicine, Pharmacy, Science, and Technology of Targu Mures, Targu Mures, Romania

Zoltan Abram

Department of Hygiene, George Emil Palade University of Medicine, Pharmacy, Science, and Technology of Targu Mures, Targu Mures, Romania
Keywords:
electronic cigarettes, alternative tobacco products, adolescents, Moldova
Abstract
Objective: The main objective of the study was to evaluate e-cigarette and alternative tobacco product use in ninth-grade students from Chisinau.
Methods: The repeated cross-sectional study collected data using a questionnaire administered in 2015 and 2018 among ninth-grade students in Chisinau, Republic of Moldova. Absolute and relative frequencies of electronic cigarettes and alternative tobacco products ever use were calculated and 2015 data were compared with those collected in 2018.
Results: The percentage of participants ever using electronic cigarettes in 2015 and 2018 respectively was 42.9% and 59.5% (p=0.001), ever using cigars was 14.9% and 15.9% (p=0.684), ever using pipes was 3.3% and 4.9% (p=0.205), ever using hookak was 17.4% and 21.7% (p=0.086), ever using chewing tobacco was 11.6% and 3.9% (p=0.039), ever using snus was 4.1% and 6.2% (p=0.135), and ever using snuff was 0.5% and 1.1% respectively (p=0.518). Exposure of participants to messages promoting electronic cigarettes was 31.0% in 2015 and 65.8% in 2018 (p<0.0001). Consumption of electronic cigarettes was significantly associated with sex (boys 62.8% vs. girls 43.6%), school performance (low grades 61.5% vs. high grades 50.0%), exposure to pro e-cigarette messages (exposed 61.4% vs not exposed 44.0%), perceived e-cigarettes harmfulness (less harmful 66.9% vs. more harmful 39.7%), and use of conventional cigarettes (ever tried 79.8% vs. never tried 24.6%).
Conclusions: The study showed an important, statistically significant increase in the consumption of electronic cigarettes among ninth-grade students in Chisinau city, from 2015 to 2018 and an increased exposure to electronic cigarette advertising.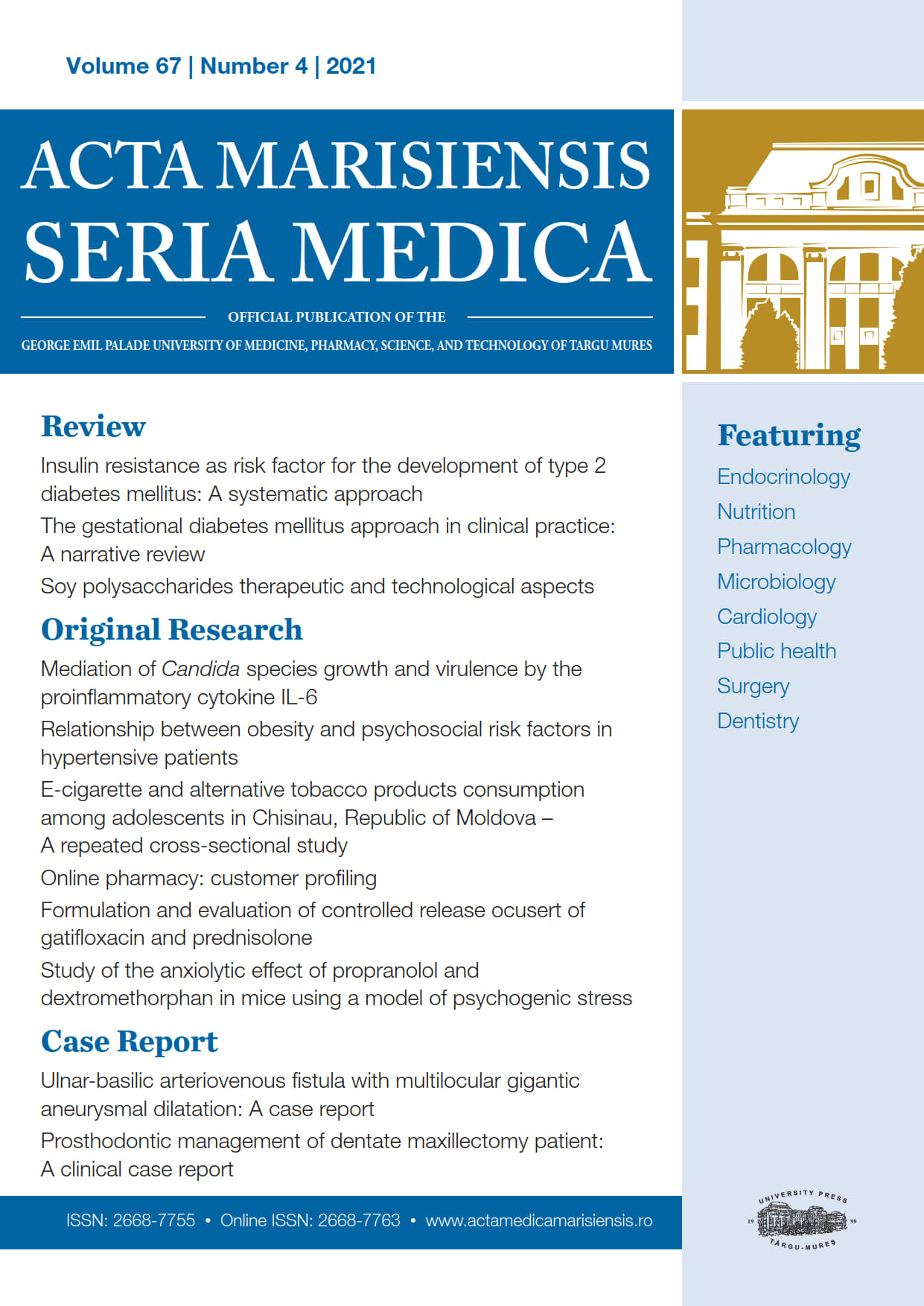 How to Cite
1.
Topada A, Nadasan V, Tarcea M, Abram Z. E-cigarette and alternative tobacco products consumption among adolescents in Chisinau, Republic of Moldova – A repeated cross-sectional study. amm [Internet]. 15Nov.2021 [cited 28May2022];67(4). Available from: https://ojs.actamedicamarisiensis.ro/index.php/amm/article/view/113
Copyright (c) 2021 Aculina Topada, Valentin Nadasan, Monica Tarcea, Zoltan Abram
This work is licensed under a Creative Commons Attribution 4.0 International License.