Ulnar-basilic arteriovenous fistula with multilocular gigantic aneurysmal dilatation: a case report
Emil Marian Arbanasi

Clinic of Vascular Surgery, Târgu-Mureș County Emergency Hospital, 540136, Târgu-Mureș, Romania

https://orcid.org/0000-0002-1664-8130

Eliza Russu

Clinic of Vascular Surgery, Târgu-Mureș County Emergency Hospital, 540136, Târgu-Mureș, Romania

https://orcid.org/0000-0003-1200-6138

Adrian Vasile Muresan

Clinic of Vascular Surgery, Târgu-Mureș County Emergency Hospital, 540136, Târgu-Mureș, Romania

Eliza Mihaela Arbanasi

Faculty of Pharmacy, University of Medicine, Pharmacy, Science and Technology "George Emil Palade" of Târgu-Mureș, 540139, Târgu-Mureș, Romania

Reka Kaller

Clinic of Vascular Surgery, Târgu-Mureș County Emergency Hospital, 540136, Târgu-Mureș, Romania
Keywords:
aneurysm, arteriovenous fistula, hemodialysis, vascular access, chronic kidney disease
Abstract
Introduction: Arteriovenous fistula dysfunction has been associated with a range of problems such as thrombosis, stenosis, dilatation, and infection.
Case presentation: We present the case of a 64-year-old patient with chronic kidney disease on hemodialysis and with an aneurysmal dilatation ulnar-basilic arteriovenous fistula having an increased risk of rupture. A temporary dialysis catheter is placed in the left femoral vein, and aneurysmal basilic veins are ligated at the anastomosis, aneurysmal dilatations are emptied by compression, and a right radiocephalic arteriovenous fistula is done. The patient has hemodialysis on the second day and subsequently three times a week for six weeks until the new arteriovenous fistula develops. He returns for aneurysmal sac resection.
Conclusion: The purpose of this paper is the presentation and management of a 15-year ulnar-basilic arteriovenous fistula with multilocular aneurysmal development with an imminent rupture.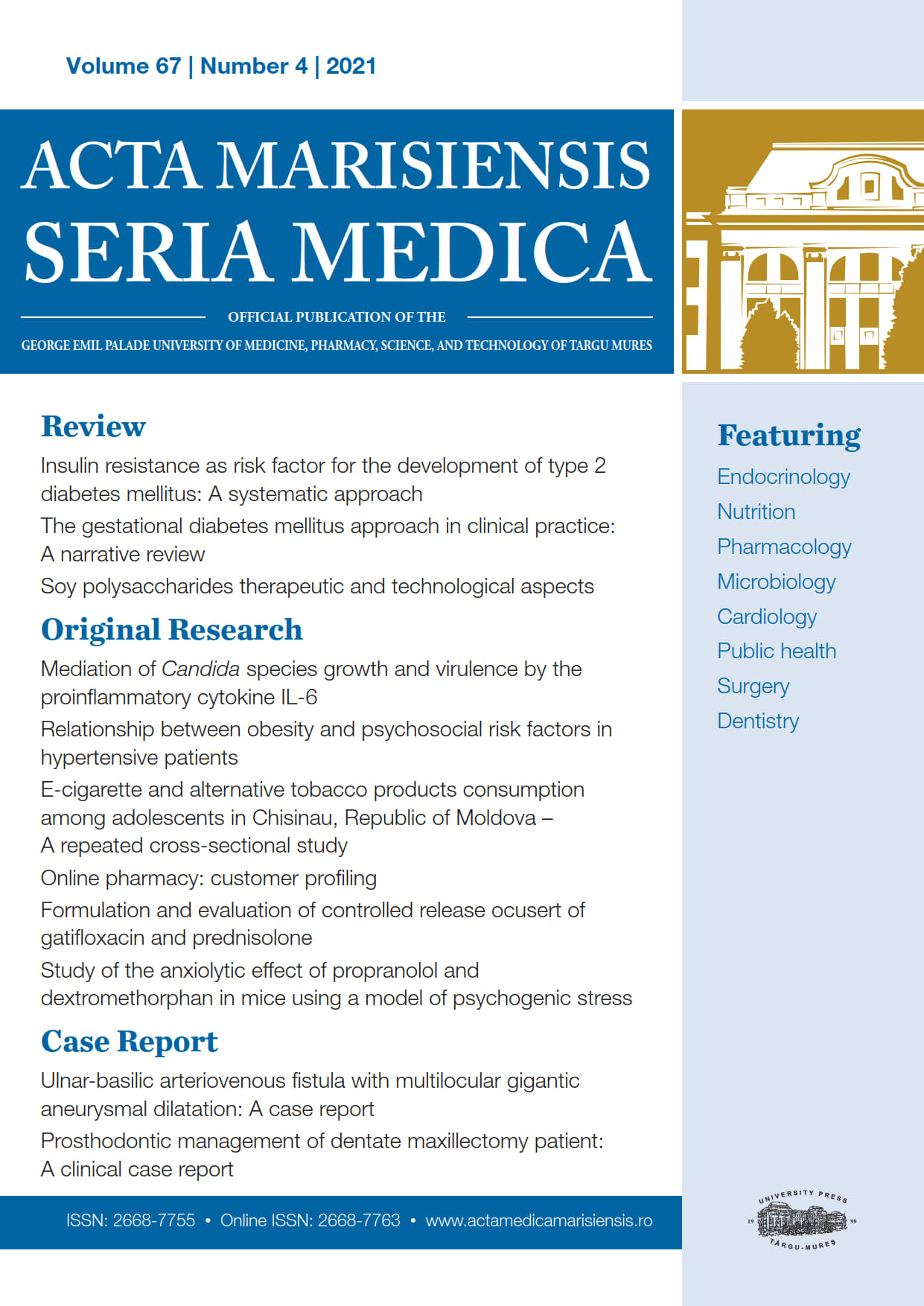 How to Cite
1.
Arbanasi E, Russu E, Muresan A, Arbanasi E, Kaller R. Ulnar-basilic arteriovenous fistula with multilocular gigantic aneurysmal dilatation: a case report. amm [Internet]. 28Oct.2021 [cited 28May2022];67(4). Available from: https://ojs.actamedicamarisiensis.ro/index.php/amm/article/view/111
Copyright (c) 2021 Emil Marian Arbanasi, Eliza Russu, Adrian Vasile Muresan, Eliza Mihaela Arbanasi, Reka Kaller
This work is licensed under a Creative Commons Attribution 4.0 International License.